In order to preserve the adopting families privacy their names on the web have been ommited. Nevertheless, I will be glad to give you further info if you
contact us
. Thanks.
" Rainy Day ", Guerreiro Bacva de Cristalmar's Family Testimonial:
" Rainy is so precious to us....he is the happy spirit that keeps us all (including Celie) joyful. He is the comic, the clown, the clever boy in the house. We love him beyond all measure and we love you for trusting us with Rainy. I agree, it is amazing that 4 years have flown by so fast. That hungry, scared, wet little puppy we found waiting for us at the airport 4 years ago has grown into a handsome, smart and sweet dog."
Chaplin de Cristalmar's Family Testimonial :
"... Chaplin is learning many new tricks. I would love to send you a video of 2 of them. He's been learning to play baseball with "P" in the backyard. Chaplin really watches the ball and the action of the game as he stands in a
team member's position on the field. (I think he prefers the pitcher or shortstop, but he's a good outfielder too.) He carries a toy with him in his mouth so he doesn't get in trouble stealing the ball from the kids. It was so amazing to see him do this, I couldn't even tear myself away to get the camera!
The other thing the kids taught him was to climb up to the "Club House" on the swingset. He climbs the ladder up to them and my niece "K" taught him to slide down the slide! Amazing!!! "
"... Chaplin is turning out to be a well rounded athlete. He's very good at soccer, but the soccer ball we had
is now flattened. I wonder how that happened?? Anyway, I wanted to tell you about this one time "P" had a friend over and we were coming inside to get everyone a drink. "P" got a big glass and filled it with water from the fridge spout. I was curious because "P" normally drinks with his own plastic cups. The next thing I know, "P" is dumping the water in Chaplin's water dish!! I was very proud because no one said anything about giving Chaplin a drink, "P" did it all on his own! Someone with "P's" disability doesn't have the natural capability to think someone else might be thirsty. "
"P"and Chaplin's relationship continues to grow and develop in a very positive way. I think" C" told you "P" and I have been teaching Chaps how to play baseball. They are both great! Chaps seems to know (usually) when it's his turn to play and when to let "P" or a friend get the ball, it's very fun to watch."P" continues to make great progress with his communication skills and other areas, I don't think any of us will ever know exactly what or how much their relationship has taught "P" but I prefer to believe that Chaps has a great impact on "P"'s ability to relate to his own feelings and his ability to interact with the world around him." P" was originally intimidated by Chaps (mostly because Chaps was still learning his place) but now I think "P" sees that his relationship with Chaplin is the easiest one he has because Chaps demands nothing from him other than an occasional pet/scratch/hug and gives only loyalty and love.
"C" has even asked about getting another puppy, but I'm not sure. Even if there were no other issues I don't think my allergies would take another dog in the house, I already can't sit on the couch without itching all over :).
I believe that being happy is a choice that each individual makes, even if they don't realize they make it. When you chose to focus the wonderful things God has given us and how enjoyable even the simplest things in life can be, you have made a choice to be happy. Thanks to you, Chaplin and some of our other friends my choice has been an easy one. Even though there have been a few bumps in the road and there will certainly be more, the lives of my family have been improved thanks to Jose Fontes.
Your friend,
"M"
Cristal de Cristalmar's Family Testimonial :
"..Cristal is so elegant. She is so much more than we expected. Today we went to the boat and she met about 10 new people. They all adored her. She is so well socialized.
She is so bright and attentive that at times when I speak to her I catch myself pausing as if she was about to speak back to me."
"...Cristal is such a joy. I love to have her by my side, and when I don't there is seperation anxiety. We enjoy playing with sticks, balls, and her other toys. I have yet to see why this special breed is a feared chewer of household items. (Cristal is the perfect lady). I am very excited because Cristal has gone on several boat rides and has no fear of the boat or surroundings. To the contrary she loves watching the seabirds in flight and like her papa she enjoys the salt air and breezes. We are taking our time getting acclimated to swimming and she has not been swimming yet although I am proud to say she has waded up to her chest to fetch her toy. I was so proud of her. She has all the instincts of her proud heritage and it is a joy to watch her grow, play, and explore."
"...She is such a wonderful spirit, she is phasing through adolescence with a little self-assertiveness. She loves to play and it is so beautiful to watch her run with all her speed and enthusiasm. She loves the boat and is fascinated as am I with seabirds.
SHE SWAM like a fish!!! I don't know why she decided that the time was right but she jumped in and started swimming with great enthusiasm. She even stuck her head completely under the water to retrieve a stick!! "
Dante de Cristalmar's Family Testimonial:
" Dante is a BEAUTIFUL dog. He walks with a strut, like he is always putting on a show. Everyone who meets him has wonderful things to say."
"I just wanted to share a story which shows how intelligent Mr Dante is... yesterday was mother's day and I had a card to give to my mom. I put the card in the little guy's mouth and said "go give the card to grandma". He started wagging his tail and ran over to my mom holding the card in the air for her to take. He is so great! After he gave her the card, he was so proud of himself - he started strutting around the house."
Diva de Cristalmar's Family Testimonial:
"..What a wonderful job you have done on raising these precious little porties. I am so lucky to have such a womderful little girl. I love her soooooo very much, I can't stop kissimg her. .... "
Toby and Ava's Family Testimonial:
" ... Believe me your Porties are beautiful. Not a day goes by that I don't pass by someone who wants to stop and pet Toby and Ava remarking what gorgeous boys they are."
"...The thing that attracted me to you from the very beginning was your sincerity and the passion you have for your beloved PWDs. I am not a dog expert but I know that a loving home is much more important than the appearance of the right setting."
"...Your friendship and the great love and support I feel gravitate from you is the next best gift to becoming Toby and Ava's "mom". Thank you for listening to all my rantings and ravings. Like me, you feel everything in your life very deeply which is why I feel very comfortable in sharing my inner most thoughts with you."
"... We are sending you a big hug and want you to know what a wonderful person you are to have raised these beautiful puppies to be loved and cared for by the special families waiting their arrival. It is always to let go
of something we love but remember your Cristalmar is growing larger by leaps and bounds and the testimony of your vocation lies in the beautiful creatures you can share with the world.."
Some of the Cristalmar Portuguese Water Dog Family members
(visit our
photo galleries
)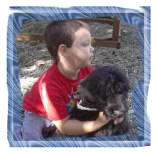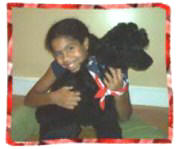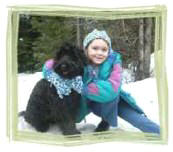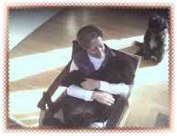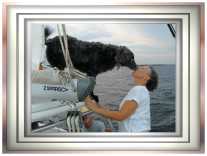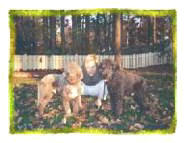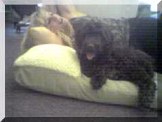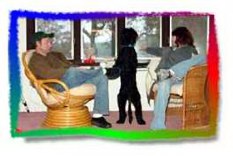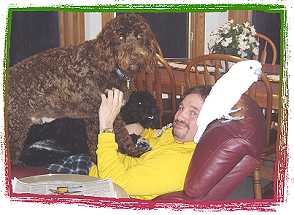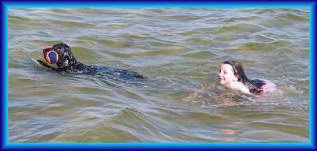 We appreciate the pictures sent by the adopting families
to view more pictures visit our photo galleries